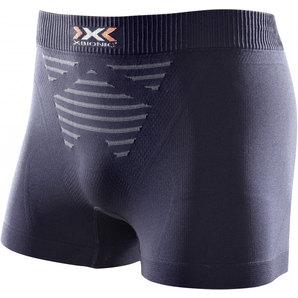 455
X-Bionic Invent Boxer
X-Bionic Invent Summerlight Boxer Shorts
Highly functional, extra-lightweight and perfect for summer temperatures: The new Functional Underwear X-BIONIC Invent Summerlight delivers everything the outdoor sports enthusiast could wish for. The MacroSphere System on the chest and back actively assists body climate regulation - cooling when you exert yourself most, and warming when the thermometer drops. In fact, precisely what the body needs at any given moment.
These boxer shorts provides precisely targeted assistance for regulating your body climate. The
three-dimensional knitted structuring maintains an insulating layer of air
next to your body.

Material: 94% polyamide, 4% polypropylene, 2% elastane
Sporting activities in hot weather put the body at risk of overheating.
The result is reduced performance because 90% of the body's temperature regulation
is via the skin. INVENT SUMMERLIGHT actively combats overheating.
INVENT SUMMERLIGHT was created by the X-BIONIC development team specifically for
use in the hot summer months. Worn directly against the skin, it regulates the body climate according to the intensity of your physical activity.

It cools when you sweat, and warms when you start to cool down.
MACROSPHERE SYSTEM ON THE LOWER ABDOMEN
The amply dimensioned MacroSphere System on the chest and back provides cooling
without any risk of chilling. Cools when you sweat, and warms when you cool down, so there is no risk of chilling.
MACROSPHERE SYSTEM AT THE TAILBONE
The MacroSphere System at the tailbone catches the sweat as it begins to flow, and wicks it away
directly to the surface, where it evaporates. This first phase, which often leads to
chafing, is thus eliminated at source.
AKTIVBUND
Ensures optimal grip.

Toote kood: loid210359
Tootja: X-Bionic
Suuruste sobivus: vaata siit
100% raha tagasi garantii:
14 päeva jooksul vahetuse võimalus:
Liisingu taotlust saab täita tellimuse vormistamisel.
Valikud

Esita toote kohta küsimus