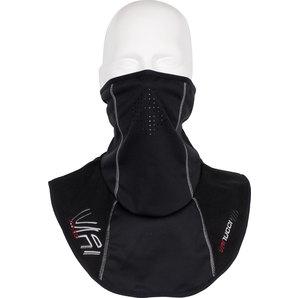 48
Vanucci Windmaster 2.0 neck warmer
Pull the Vanucci SympaTex-WINDMASTER Neck Warmer 2.0 over your head and position it over your nose. You will immediately discover how good the material feels, and what an excellent fit this neck warmer is. You'll also notice that it lets you breathe very freely because the perforations in the nose and mouth area allow plenty of air under your helmet, yet you still stay warm and comfortable.

Neck and chest section made of wind- and water-repellent SympaTex-WINDMASTER Fleece/LI
Special perforations for nose and mouth
Material: 100% polyester
Fit:
Neck circumference 46 - 52 cm, corresponds to size S/M
Neck circumference 50 - 58 cm corresponds to L/XL
Good to know:
SympaTex-WINDMASTER offers high-tech wind protection you can rely on to keep out cold winds and light rain. Invisibly incorporated in the garment, WINDMASTER ensures optimum breathability and perfect comfort while creating a warming layer of air between your body and clothing.

Toote kood: loid218504
Tootja: Vanucci
Suuruste sobivus: vaata siit
100% raha tagasi garantii:
14 päeva jooksul vahetuse võimalus:
Liisingu taotlust saab täita tellimuse vormistamisel.
Valikud

Esita toote kohta küsimus