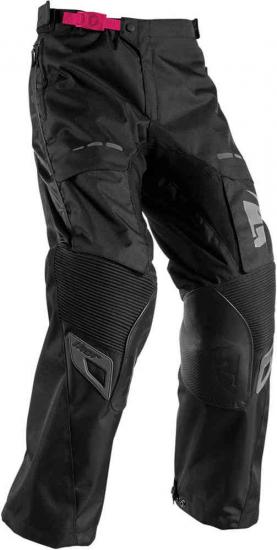 29041
Thor Terrrain Contour Ladies Pants
OVER THE BOOT CONSTRUCTION Non-tapered lower leg construction allows for easy over the boot placement
Internal gaiter at boot
Purpose built TPR
Comfort mesh liner
Interior hip pocket
Refined chassis for increased comfort and performance
PERFORMANCE COVERAGE Abrasion-tolerant materials, durable construction, and full grain leather knee panels provide coverage in crucial areas
SPECIALIZED FIT Adjustable side cinches, snap buttons, and ratchet-style closure tailors to the unique build of every rider
DURABLE CONSTRUCTION Polyester and nylon are combined with double stitch for a pant that is made to last. Hour after hour on the trails.
STORAGE Two zippered pockets for storage
CONVERTIBLE Hook and Loop panels above the knee can be opened to expose air intakes
Adjustable snap button ankle closure
Reflective accents enhance visibility
YKK zippers
Sublimated no fade graphics
Toote kood: fc136164558
Tootja: Thor
Suuruste sobivus: vaata siit
100% raha tagasi garantii:
14 päeva jooksul vahetuse võimalus:
Liisingu taotlust saab täita tellimuse vormistamisel.
Valikud

Esita toote kohta küsimus